---
---
Dear Visitor,
Please be warned that this site only contains the archives for the SAC Golf Section website from 2003 to 2014; you are however welcome to browse around, but if you want new stuff, then ....

...the current website is: www.standac.com/sacgolf

Thank you and enjoy your visit.

---
Spring Golf Weekend
April 25-27th
The Golf Section held its traditional spring weekend outing from April 25-27 at Sancerre, returning to the same venue that had been a success 8 years previously.
Despite dire weather forecasts, and half an inch of rain falling on the course on the Friday morning, we were quite fortunate with the weather overall and it was more a case of April showers than pouring rain, and the course stood up well to the test.
32 golfers, plus 3 non-golfing partners, enjoyed the weekend, and there were some notable scores.
In our individual stableford competition on Saturday, the top score was recorded by first-time invitée Céline Girardot (a member at Villarceaux and spouse of Villarceaux committee member Didier Girardot) – an exceptional 44 stableford points. In addition, Céline scored 27 gross stableford points and therefore won the Dean Trophy for the best gross score. She has been told that she needs to come back for our next weekend away (Limère, October 3-5) to defend her title!
The Kiwi Cup, presented to the best net score by an SAC member, was won by Patrick Lavelle with an excellent score of 38 points (Patrick arrived on Friday evening and had not even seen the course before teeing up on Saturday!). Other notable net scores by SAC members were: 36 points by both Ebba Dean and Sue Hall, 33 points by Alex Murphy and 32 by Dougie Anderson.
Our traditional friendly Sunday competition was a 3 ball scramble "à la française". Overall scoring was good, and the winning team was Neil Anderson, Muriel Jones and Alison Lavelle.
Once more our very own duo of fearless photoreporters, Alan and Julie Peacock, have unlimbered their telephoto lenses to bring you amazing fresh insights into the world of the weekend golfer in its native habitat.
---
Section Competition
Saturday, April 5th - Individual Stableford
Rank
Ladies
Index

Handicap

Net
Stableford
Score
1st
Alison Lavelle
32.7

33

38
2nd
Joan Cosgrove

25.8

25

36
3rd
Monica Greenwood

22.1

21

30
4th

Muriel Jones

18.9
18

28
5th

Sue Hall

10.4

11

27

6th

Joyce Jacques

24.6

24

27

7th

Jill Forrest

16.0

18

23



Pat Cully

24.9

24

DNF

Rank
Gentlemen
Index

Handicap

Net
Stableford
Score
1st
John McCallum
18.4

19

32
2nd
James Moore
11.4

14

27

3rd
Patrick Lavelle

19.0

19

26
4th
John Greenwood
23.1

24

24

5th
Ian Jones

12.8

12

24
6th
Peter Hall

24.8

25

23

7th

Simon Murphy

15.3

15

22

8th

Peter Howard

16.6

17

17



Ian Cully

20.7

21

DNF

---
Section Competition
Saturday, March 8th - 3 clubs + putter - Stableford
Rank

Ladies (Red Tees)

Net
Stableford
Score
1st
Alison Lavelle

33
Sue Hall
26
3rd
Joyce Jacques

20
4th

Jill Forrest

18

Rank

Gentlemen (Yellow Tees)

Net
Stableford
Score
1st
Ian Jones

31
2nd
Patrick Lavelle

301

3rd
Simon Murphy

30
4th
Claude Jacques

27
5th
Peter Howard

16
6th
Chris Fewkes

15

(1) Better back 9

---
Section Competition
Saturday, February 1st, 2014 - Chapman Stableford
Rank

Team

Net
Stableford
Score

1st

Jill Forrest & Alex Murphy
351

2nd

Alison Lavelle & Joyce Jacques
352
3rd
Sue Hall & Simon Murphy
30
4th
Peter Howard & Peter Hall
24
Notes
(1) 19 on back 9
(2) 18 on back 9
---
Section Competition
Saturday, December 21st - Scramble "A la française"
Rank

Ladies

Net
Stableford
Score

1st

Monica, Joyce, John Philipps, Roland
40*

2nd

Sue, Simon, Peter Howard, Claude
40
3rd
Murielle, Ian, John Greenwood, James
37
* In a thrilling finish, Monica & Co win with the better last 6 (& 3)
---
Dateline 22nd November
Shock! Horror!
Wild scenes in Meudon!
Normally staid golfers' outrageous behaviour in private club caught on camera by intrepid photographer - as they happened

Images Copyright Sports News Photographer of the Year Julie P
---
2013 Annual Matchplay

Finally all results in!!!
Congratulations to Ladies' Matchplay Winner Julie Peacock
and to the Men's Matchplay Winner Alex Murphy
Follow the links for the full results:
Ladies' Matchplay and Mens' Matchplay
---
Section Competition
Saturday, November 9th - Individual Stableford
The Royal and Ancient Weather Gods subjected the competition to the so-called 9-Hole rule.
Breach of the 9-Hole rule results in floods, plagues and pestilence being visited upon the player or players.
No player was found to be in breach of this rule. So the Gods just visited mild flooding and pestilence upon the land, while the participants lunched or partied.
Rank

Ladies

Handicap

Strokes

Net
Stableford
Score
1st
Monica Greenwood
21.9

21

15
2nd
Sue Hall
10.3

11

12
3rd
Jill Forrest
16

18

7
Rank

Gentlemen

Handicap

Strokes

Net
Stableford
Score
1st
John Greenwood
23.1

23

19
2nd
John McCallum

18.3

18

14

3rd
John Phillips

9

11

13
4th
James Moore

11.4

11

13
5th
Peter Hall

24.8

25

9
6th
Peter Howard

17

17

6

---
SAC Autumn Vase
13th October, 2013
Formula: Net Stableford
Full lists from FFG: Gross, Net
Winners
Best Net of the Day (all series)
Jean-Pierre Hinderscheid - 36 (1SM)




Men 1st Series:

Michael Dean - 35; J.B. Bégeot - 34 ; Alan Peacock - 33

Men 2nd Series:

Patrick Lavelle - 34; Andrew Dean - 34 ; Jean-François Treil - 33

Men 3rd Series:

Bertrand Delacroix - 33; Bernard Giboin - 32 ; Etienne Grandmaire - 29

Ladies 1st Series

Catherine Felder - 33; Véronique Deschenes - 33; Christiane Boisseau - 32

Ladies 2nd Series

Sylvie Spiga - 35; Christine Langlais - 33; Alison Lavelle - 32
Best SAC Scores
Autumn Vase Winner: Patrick Lavelle (2SM)
Other notable scores from the SAC and guests*: Andrew Dean (2SM), Alan Peacock (1SM), Michael Dean (1SM)
* What's the connection with St Cloud? Is this coincidence?
Gross Stableford (all 1st Series)
Men (1st Series):

1) J.B. Bégeot - 28

Ladies (1st Series):

1) Patricia Robinson - 22

Longest and Nearest
Longest Drive - Men:- Michael Dean
Longest Drive - Ladies:- Laurence Vervialle
Nearest Pin - Men:- Jean Deschênes
Nearest Pin - Ladies:- Caroline Icart
Click here for more of ace photographer Julie's stunning pics of the event
---
2013 Autumn Weekend
Domaine de Vaugouard
September 27th-29th.
The course was in excellent condition, and was very challenging as it was playing every yard of its length.
Andrew Dean won the Kiwi Cup, which is awarded for the best net Stableford score in our Saturday competition.
Julie Peacock won the Dean Trophy for the best gross score.
In our Sunday friendly scramble, the winners were Andrew Dean and Mary Rosset.
We were unbelievably lucky with the weather – it rained overnight on both Friday and Saturday, and also just a few minutes after we set off for home on Sunday afternoon, but not a drop while we were on the course!
---
2013 Riders Cup
Wednesday, 18th September
Our brilliant team sprang forth from the slough of despond created by their dire defeat at the hands of Villarceaux to deliver a sound drubbing to the visiting Vikings - 3 1/2 to 1 1/2 - and thereby retain the cup
---
2013 Centenary Cup

"O, woe is me,
To have seen what I have seen, see what I see!"
GolfBag 2013, after W.Shakespeare, Hamlet3.1
After two successive years in which the SAC won the match, Villarceaux fielded a very strong team and frankly outplayed us, winning the match by 8 points to 1, even though most of the matches went as far as the 17th hole. The match was played in the usual excellent spirit and was rounded off by a glass of champagne.
For sordid details of the team line-ups see here

---
2013 Summer Eclectic

Clean sweep for the

Lavelles

in the

Net Stakes

- congrats Alison (who just misses a record-breaking 50 by the skin of her teeth) and Patrick.
For the

Brutes

,

Sue has a nice 2 under

for the Ladies, and for the Men

James ducks in with one under

, while

Alex beats all comers with 3 under

!


See the final results here
---
President's Cup
and Putting Competition
Saturday, June 8th

President's Cup Winners (Stroke Play, Net)
Men: Ian Jones
Ladies: Muriel Jones

Nou-yai Cup (Best Ladies' Gross score*)
Winner: Sue Hall
Putting Competition
Ian Jones


James Moore

Click here to see the full results
---
SAC Spring Cup
25th May, 2013
Formula: Gross & Net Stableford
Full lists from FFG: Gross, Net
Winners
Gross Stableford (all 1st Series)
Men:

1) Dimitri ANSART - 36
2) Julien ANSEAU - 20
3) James MOORE - 18

Ladies:

1) Karine RUPE-GUIADER - 22
2) Lisa BRUNEAU - 21
3) Catherine FELDER - 19
Pick of the Best Net (all series)
Men:- Cyril O'LANYER - 42 (2S); Philippe REBBE - 39 (2S); (Dimitri ANSART - 37 1S); Jean-Guy FECHNER - 36 (2S); John McCallum - 35 (3S)

Ladies:- Véronique LEHLEYDER - 39 (2S); Alison LAVELLE - 36 (2S); Solena PERSON - 35 (1S); Laurence O'LANYER - 33 (2S)
Best SAC Score
John McCallum - 39 (2nd Series Men)
Alison Lavelle - 36 (2nd Series Ladies
Longest and Nearest
Longest Drive - Men:- John McCallum
Longest Drive - Ladies:-
Nearest Pin - Men:-
Nearest Pin - Ladies:-
The view from Villarceaux - including pics
---
Section Competition
Sat, May 11th - 2 ball Scramble 'Mostly Mixed'
Rank

Players

Net
Stableford
Score
1st
Sue Hall + James Moore
391
2nd
Monica Greenwood + Peter Hall
391
3rd
Jill Forrest + Roland Bouloux2
391
4th
Naomi Moore + Alison Lavelle
37
5th
Joyce Jacques + John Greenwood
36
6th
John Willatts + Ian Jones
353
7th
Patrick Lavelle + Claude Jacques
353
Notes:
(1) & (3) In order of performance over last 9 holes
(2) Guest player
---
Golf Weekend - Dieppe
April 19th - 21st
The Golf Section held its bi-annual golf weekend from April 19-21 at Dieppe. 30 golfers confronted the interesting Dieppe course and admired the sea views. The weather was fair throughout the weekend, if a little chilly at times. On Saturday, we played for the traditional Kiwi Cup (best net Stableford) which was won by Muriel Jones, and the Dean Trophy (best gross stableford) won by Alan Peacock.
On Sunday, we played a 3-ball scramble and the winners were the team of Michael Dean, Monica Greenwood and Chris Fewkes.
We all enjoyed the weekend – good food, pleasant hotel, and all very well organized by James Moore.
Our next weekend away will be from September 27-29 at Vaugouard.
Results
Kiwi Cup Winner: Muriel Jones
Dean Trophy Winner: Alan Peacock (23 points gross)
Saturday 20th April, 2013
Kiwi Cup Stableford Competition
Ladies
Net
Score
1st
Muriel Jones
36
2nd
Terri Delage
35
3rd
Julie Peacock
30

Gentlemen
Net
Score
1st
Alan Peacock
35 (23 gross)
2nd
Michael Dean
31
3rd
Claude Jacques
29
4th
Jean-Pierre Delage
28
Sunday 21st April, 2013
3-ball Scramble à la française
Rank

Players

Net
Stableford
Score
1st
Michael Dean, Monica Greenwood, Chris Fewkes
39
2nd
Jean-Pierre Delage, Joyce Jacques, Marie de Tilly
35
3rd
Andrew Dean, Muriel Jones, Marie-France Murphy
34
---
Section Competition
Sat, April 6th - Greensome
Rank

Players

Net
Stableford
Score
1st
Murielle & Ian Jones
40
2nd
Alison & Patrick Lavelle
38
3rd
John Philipps + John Mc Callum
33
4th
Monica & John Greenwood
31
5th
Jill Forrest & Joan Cosgrove
29
6th
Joyce & Claude Jacques
27
7th
Marie-France Murphy & John Willatts
23
(Teams' handicaps based on 60% of the low handicap + 40% of the high handicap.)
---
Section Competition
Sat, February 23rd - 3 clubs + putter
An ill-fated arctic exploration of 18 holes, abandoned after 9 by common consent, revealing the Lavelles' hitherto concealed talent for winter golf!
Rank(1)

Players

Playing
H'cap
Net
Stableford
Score
1st
Patrick Lavelle
22
20*
2nd
Alison Lavelle
36
20*
3rd
Marie-France Murphy
23
18**
4th
Ian Jones
12
18**
5th
Alex Murphy
13
17
6th
Sue Hall
9
16
7th
Simon Murphy
15
14
8th
Chris Fewkes
33
11
(1) Ladies and Men combined
* Last 6 countback, 16-11
** Last 6 countback, 11-10
---
Golf Dinner & Prizegiving: November 9th
---
Autumn Vase
Sunday, 4th November, 2012
Autumn Vase Winner (Best Net overall): Cyril O'Lanyer (41 points)
With creditable performances from SAC members Julie Peacock (36, 1st in 1st series Ladies) and Peter Hall (30, 3rd Series Men - 2nd behind Cyril O'Lanyer).
Julie also took the Trophy for the best SAC score!
Nearest the pin: Caroline ICART
Longest drive (Men): Enguerrand CHAMBRION
More on this page
---
2012 Matchplay
Ladies' winner: Julie Peacock; runner-up Sue Hall
Men's winner: Alex Murphy; runner-up Ian Jones
Click for Ladies' Draw and Men's Draw
---
Summer Eclectic
2012 Edition
In a fascinating one-two, the Murphy men show the way with their below par scratch scores (Alex's -7, 1 better than last year, is coming in sight of the best*), and Alex wins the Men's Net too....
On the Ladies' front, Monica leads the scratch with a par, but Alison pips her by a stroke or so for the Net prize.
* Guess who!
---
---
---
---
---
New in
Funstuff
- GolfBag's personal Collection of Cartoon favourites
* for private viewing only *
Calvin & Hobbes, BC, Blondie, Wizard of Id, Beetle Bailey, etc....

and

The 20 most popular interactive (Flash) games on the Internet - according to the Telegraph
---
The Relentlessly Silly Corner
where trivia reigns supreme
There's now a HUGE collection of golf jokes on the Funstuff pages (to make up for the fact that trivia is getting harder to choose - there's too much about!)
And also, added 12th June, '07 the "Best of Stewie" from Family Guy
Catch up with previous Silly Links at the 19th hole
---
More Stuff
---
Click on these images for spectacular views of the Domaine de Villarceaux taken from the air by a friend of Monica's. (Spot the clubhouse in the 2 on the right- you'll be very surprised. Check them out on Google Earth!!)...below, taken end November 2006, has all 18 holes...count them!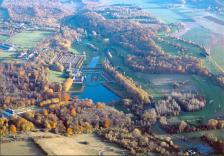 (warning, the pic is big!)
and now for something completely different - Villarceaux in Winter!
... and back down to earth, here are a few more taken by Sue the day after the 2006 Autumn Vase ...

---
And how about these stunning panoramic photos of golf locations around the word by Frédéric Froger?
---
Begin siteLevel HTML Searchbox Code
---
This site is operated for the benefit of members of the SAC Golf Section, accordingly viewing some of the pages on this site require that you have a valid User Id and Password. If you are having difficulties please use the Feedback form.
---